West Yorkshire devolution activity
This an update West Yorkshire devolution activity.  Please share with your teams, in particular your Communication Teams, as appropriate.
Media launch of the Prospectus – Wednesday 21 October
There will be considerable activity next week culminating in an online Twitter Q+A on Wednesday 21 October.  Key activity is as follows:
A Blog on the National Housing Federation website by Steve Close – go live Wednesday 21 October
An article in the Yorkshire Post by Helen Lennon – target go live Wednesday 21 October (dependent on news cycle etc)
Press release to all West Yorkshire media outlets – local newspapers, radio, TV etc – Wednesday 21 October at 9am.
Online Twitter Q+A led by Nick, Helen and I between 1000-1100 on Wednesday 21 October at handle - https://twitter.com/WYHousing.  We will be encouraging journalists, stakeholders and social housing professionals/bodies to contribute to the debate.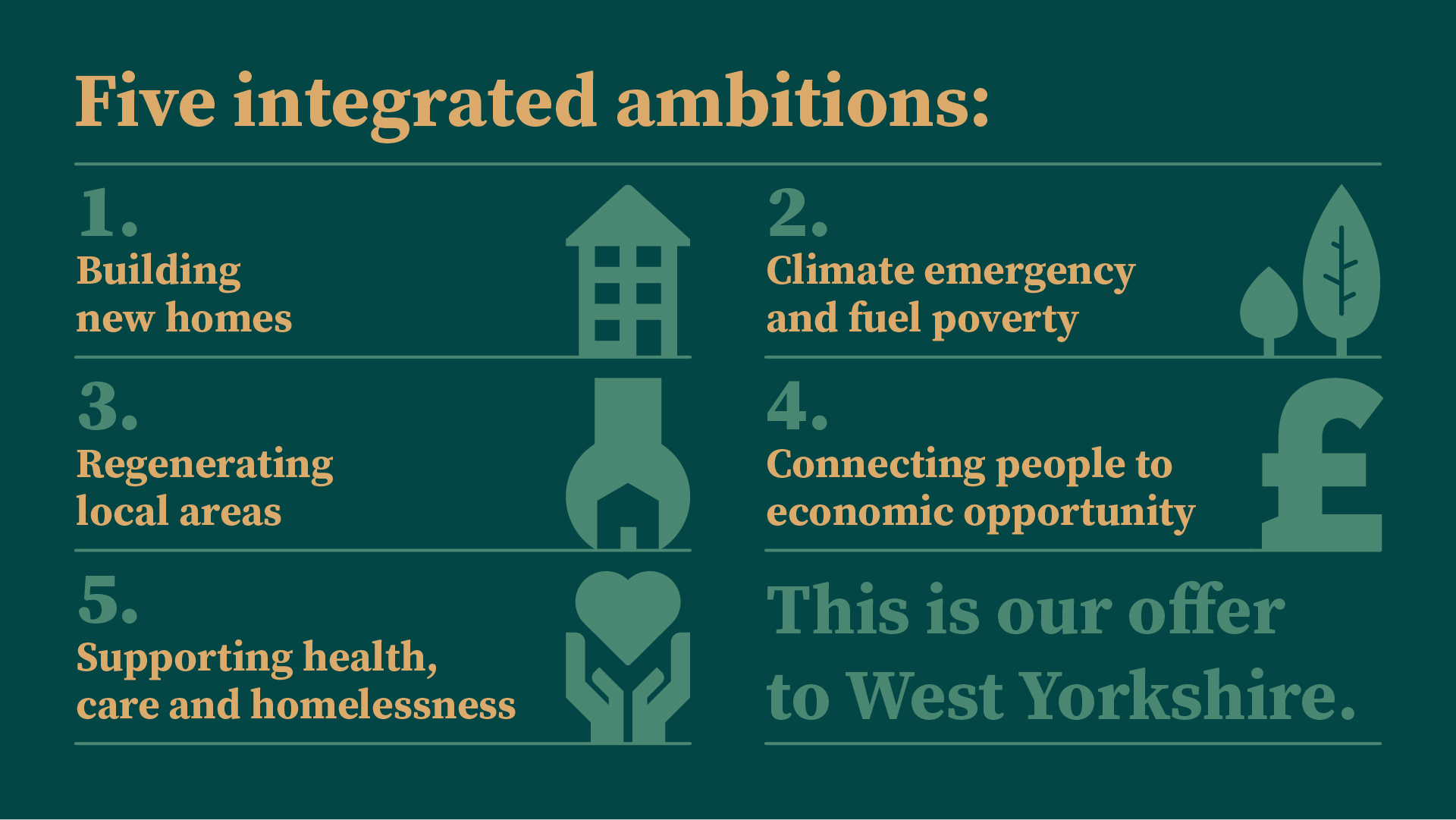 ---
Make A Stand
Manningham Housing Association has signed up to the Make A Stand campaign.
Make a Stand was launched in June 2018, as part of Alison Inman's presidential appeal to tackle domestic abuse. It centres around a pledge was developed in partnership with the Chartered Institute of Housing, Domestic Abuse Housing Alliance (DAHA) and our 2018 presidential charity Women's Aid.
Millions of people experience domestic abuse every year and two women are killed by their partner or ex-partner every week. Housing organisations house and employ millions of people across the UK and that means we house and employ many thousands of people affected by domestic abuse.
The housing sector must do more on this issue. In the words of CIH president Alison Inman, these are "our homes, our people and this is our problem".
The pledge gives housing organisations the opportunity to sign up to make four focused, but easily deliverable commitments to provide support for people experiencing domestic abuse.
This is a way for housing organisations to publicly commit to take action to support victims of domestic abuse.
So please, join us and Make a Stand! You can find all of the information you need about the pledge on the Chartered Institute of Housing site by clicking here.
Homes at the Heart
Throughout the coronavirus crisis, there has been an increased awareness of the importance of good homes, strong communities, and the right care and support. So we've been moving quickly at this vital moment to create a simple, powerful message that captures this awareness and reaches politicians – calling for a once-in-a-generation investment in social housing and the people who live in it.
Campaign summary
Our sector has always believed that everyone deserves a safe, secure, comfortable place to call home. Not just now, in the middle of this crisis, but always.
Homes have been at the heart of this crisis. Now they can be at the heart of our recovery. That is our key message for the government, and that is why our campaign is called #HomesAtTheHeart.
#HomesAtTheHeart will be a national campaign and coalition. We're working in partnership with the Chartered Institute of Housing, National Federation of ALMOs, Association of Retained Council Housing, and Crisis. We're also securing supporters from across different sectors – from Carers UK to Natwest.
Help share our #HomesAtTheHeart campaign
Our first priority is getting the message out on Thursday, and we hope you can:
Share your support on social media.
Tweet your local councillors, mayors and MPs about the campaign.
You can download our campaign graphic to use and we'll make more resources available via housing.org.uk/HomesAtTheHeart
Next steps
This is just the start of the campaign. Throughout the summer and autumn, we are planning a series of media stories, themed weeks of action, new resources, social media activity and targeted engagement with politicians to create a consensus that social housing must be at the heart of our country's recovery.
As the campaign progresses we'll be in touch with more information, and you can also stay up to date by following #HomesAtTheHeart on social media.
We believe that this campaign can help us secure the investment in social housing our country needs. With your support, it could become a real catalyst for positive change. We can put #HomesAtTheHeart of recovery.